Royal Caribbean's Going, Going, Gone Sale. Must Be Booked By Wednesday, February 21st
3/30    Navigator of the Seas  9 night S Carib from Miami – Balcony $1099; Inside $599
3/31    Empress of the Seas  5 night W Carib from Miami – Oceanview $599; Inside $449
3/31    Harmony of the Seas  7 night W Carib from Ft Lauderdale – Oceanview Balcony $1099; Central Park Balcony $999
3/31   Adventure of the Seas  7 night S Carib from San Juan – Balcony $899; Oceanview $749
3/31   Freedom of the Seas  8 night E Carib from Ft Lauderdale – Balcony $949; Oceanview $699; Inside $549
4/1      Liberty of the Seas  7 night W Carib from Galveston – Balcony $929; Inside $599
4/1      Jewel of the Seas  7 night from San Juan – Balcony $849; Inside $599
4/5     Grandeur of the Seas  9 night Southeast United States and Bahamas from Baltimore – Inside $599
4/7     Anthem of the Seas  7 night Bahamas from Cape Liberty – Balcony $769; Oceanview $699; Inside $649
4/7     Adventure of the Seas  7 night S Carib from San Juan – Balcony $849; Oceanview $649; Inside $499
4/7      Harmony of the Seas  7 night E Carib from Ft Lauderdale – Oceanview Balcony $1099; Central Park Balcony $959; Oceanview $799; Inside $699
4/7      Jewel of the Seas  7 night from San Juan – Balcony $799; Oceanview $599; Inside $499
4/8     Jewel of the Seas  7 night from San Juan – Balcony $799; Oceanview $599; Inside $549
4/8     Liberty of the Seas  7 night W Carib from Galveston – Balcony $849; Oceanview $599; Inside $449
4/8     Rhapsody of the Seas  7 night W Carib from Tampa – Oceanview $529; Inside $429
4/8     Freedom of the Seas  6 night W Carib from Ft Lauderdale – Balcony $699; Oceanview $499; Inside $399
4/9     Empress of the Seas  5 night Key West and Havana from Miami – Inside $499
4/14    Adventure of the Seas  7 night S Carib from San Juan – Balcony $799; Oceanview $649; Inside $499
4/14    Harmony of the Seas  7 night E Carib from Ft Lauderdale – Oceanview Balcony $999; Central Park Balcony $879; Oceanview $769
4/15    Jewel of the Seas  7 night from San Juan – Balcony $799; Oceanview $599; Inside $499
4/15    Rhapsody of the Seas  7 night W Carib from Tampa – Oceanview $529; Inside $429
4/21    Anthem of the Seas  7 night Bahamas from Cape Liberty – Balcony $769; Oceanview $659; Inside $609
4/21    Adventure of the Seas  7 night S Carib from San Juan – Balcony $799; Oceanview $599; Inside $439
4/21    Harmony of the Seas  7 night E Carib from Ft Lauderdale – Oceanview Balcony $999; Central Park Balcony $949; Oceanview $769; Inside $679
4/21    Jewel of the Seas  7 night from San Juan – Balcony $799; Oceanview $599; Inside $499
4/22   Rhapsody of the Seas  7 night W Carib from Tampa – Balcony $899; Oceanview $499; Inside $399
4/22   Jewel of the Seas  7 night from San Juan – Balcony $849; Oceanview $599
4/23   Empress of the Seas  5 night Key West and Havana from Miami – Oceanview $599; Inside $449
4/26   Grandeur of the Seas  9 night Southeast United States and Bahamas from Baltimore – Balcony $1199; Oceanview $629
4/28   Freedom of the Seas  8 night E Carib from Ft Lauderdale – Balcony $729; Oceanview $599; Inside $429
4/28   Adventure of the Seas  7 night S Carib from San Juan – Balcony $899; Oceanview $699; Inside $599
4/29   Rhapsody of the Seas  7 night W Carib from Tampa – Balcony $849; Oceanview $499; Inside $399
4/29   Allure of the Seas  7 night E Carib from Ft Lauderdale – Oceanview Balcony $849; Inside $699
4/29   Jewel of the Seas  7 night from San Juan – Balcony $899; Oceanview $699
5/3     Anthem of the Seas  9 night Bermuda/Carib from Cape Liberty – Balcony $999; Oceanview $899; Inside $799
5/5     Grandeur of the Seas  5 night Bermuda from Baltimore – Balcony $1149; Inside $599
Celebrity Cruises Current Offer – Must Be Booked by February 21st for cruises between May 1st 2018 and April 30th 2019
2 free "Perks" Choose any 2 – Free Drinks, Prepaid tips, $150 ship-board credit, Free WI-FI
$$ savings ($100 per stateroom for inside rooms, $200 for oceanview and verandas, $300 for concierge and aqua class and $400 for suites)
$25 deposit (does not apply to group bookings)
This is just a sampling of our last minute deals and promotions. Call or email us for information about a cruise or land vacations you may be interested in.
Royal Caribbean's Going, Going, Gone Sale. Must Be Booked By Wednesday, February 14th
3/18 Liberty of the Seas 7 night W Carib from Galveston – Balcony $1049; Inside $549
3/25 Liberty of the Seas 7 night W Carib from Galveston – Balcony $999; Inside $599
4/7 Anthem of the Seas 7 night Bahamas from Cape Liberty – Balcony $759; Oceanview $679; Inside $629
4/14 Anthem of the Seas 7 night Bahamas from Cape Liberty – Suite $1259
4/21 Anthem of the Seas 7 night Bahamas from Cape Liberty – Balcony $729; Oceanview $649; Inside $599
4/26 Grandeur of the Seas 9 night E Coast/Bahamas form Baltimore – Balcony $1299; Oceanview $649; Inside $599
Princess "Drop and Go" Sale Must Be Booked by Thursday, February 15th
3/3 Crown Princess 8 night E Carib from Ft Lauderdale – Oceanview $1044; Inside $649
3/16 Crown Princess 8 night S Carib from Ft Lauderdale – Balcony $1499; Oceanview $749; Inside $649
3/18 Caribbean Princess 14 night S Carib from Ft Lauderdale – Balcony $2659; Oceanview $1774; Inside $1199
3/30 Royal Princess 10 night S Carib from Ft Lauderdale – Balcony $1549; Inside $1069
3/31 Coral Princess 10 night Panama Canal from Ft Lauderdale – Balcony $1499; Oceanview $1299
4/1 Caribbean Princess 10 night Panama Canal from Ft Lauderdale – Balcony $1599; Inside $899
5/1 Caribbean Princess 10 night E Carib from Ft Lauderdale – Balcony $1499; Oceanview $899
Celebrity Cruises "Insider" Sale – Must Be Booked by Monday, February 12th. This is a sale of interior staterooms at about $100 per day
3/18 Silhouette 7 night W Carib from Ft Lauderdale – $699
3/23 Reflection 10 night S Carib from Ft Lauderdale- $849
3/24 Equinox 7 night W Carib from Miami – $699
3/25 Silhouette 7 night E Carib from Ft Lauderdale – $699
3/31 Equinox 7 night E Carib from Miami – $699
4/1 Eclipse 14 night S Carib from Miami – $1149
4/1 Silhouette 7 night W Carib from Ft Lauderdale – $749
4/2 Reflection 11 night S Carib from Ft Lauderdale – $1049
4/15 Equinox 8 night E Carib from Miami – $799
4/23 Equinox 11 night Jazz and S Carib from Miami – $1149
5/4 Equinox 10 night S Carib from Miami – $1099
This is just a sampling of our last minute deals and promotions. Call or email us for information about a cruise or land vacations you may be interested in.
Do you cruise in an inside stateroom?  We doubt it.  Only about 1 in 20 of our clients book an inside room.  Before the cruise industry discovered balconies, cruisers could select ocean-view or interior rooms.  More than 25% of our clients chose interior rooms. Since the introduction of balconies, cruise lines have had a hard time selling inside rooms.  Even ocean-view rooms have become less popular (Princess has eliminated them on their newer ships).
Cruise lines hate inside rooms.  They are far less profitable than balcony rooms.   A typical example is the March 3rd sailing of the Crown Princess.  An interior room is priced at $649 while a balconied room is $1499.  Passengers in each get the same food, room service, entertainment and ports of call.  You can see why cruise lines hate inside rooms.  However, they are stuck with them.  With every deck of balconies, there is interior space that needs to be filled, thus we have a surge in unwanted interior rooms.
How do cruise lines handle this problem?   They offer extra discounts to the point that they are breaking even (or worse) on the sale of the interior rooms and are hoping that they make money with on-board spending.  Note that many cruise lines do not give amenities to passengers who select interior rooms.  They want these clients spending their own money.  Celebrity Cruises is having an "Insider" sale of interior rooms (click for sale).  If you're one of the 5 percent who can live with an interior room, check out the Celebrity sale.  It ends Monday.
Royal Caribbean has sharply reduced the number of interior rooms on their Oasis class ships using a very unique design.  The Oasis Class ships are twice as wide as other cruise ships.  This enabled the architects to build two superstructures on the double-wide hull.  One side of each superstructure faces the ocean while the other side faces an open-air interior space.  They put balconies on both the ocean-facing and the interior facing superstructures.  In the interior facing space they created Central Park and Boardwalk.  The balconies overlooking Central Park and Boardwalk command a much higher price than a traditional interior stateroom.
Call us on Monday if you're interested in the Celebrity Insider's sale.
Rachelle and Wayne couldn't resist one of Royal Caribbean's Going, Going, Gone sales.  A four night cruise, with a full 12 hours in Cuba was only $349 for an ocean view room.
After a very leisurely sail from Miami to Havana, a distance of 99 miles, El Morro greeted us at the crack of dawn on the third day of the cruise.  As we crept slowly toward our pier, we felt like we were entering the "Twilight Zone".  Roads along the shore side hosted US built cars from the 30s, 40s and 50s.  Beautiful buildings came into view, many in poor condition after nearly 60 years of communist rule.  We couldn't wait to see more of this living museum.
When traveling to Cuba, you can't simply get off the ship as you would in most ports.  We had to take an excursion through Royal Caribbean thanks to new regulations promulgated by our government.  Since one of Wayne's favorite books is "The Old Man and the Sea", we elected to take an excursion related to Ernest Hemingway.  Our Cuban guide was excellent but the tour itself was just "OK".  Our friends who traveled with us took an Arts and Culture tour which they loved although they noted that there was a lot of walking.  Folks with mobility issues should only take tours that involve motor transport.  The streets in colorful Old Havana are either cobblestone or are in rough shape.
Once we completed the tour, our visa requirements were met so we were free to roam as we pleased.  We negotiated a ride from the proud owner of a 1956 Ford Crown Victoria (stick shift) to take us to Jaimanitas on the outskirts of Havana where Cuban architect Jose Fuster constructed a dreamlike streetscape inspired by the works of Spanish architect Antoni Gaudy (Sagrada Familia in Barcelona).
Many people ask us whether we felt safe.  The answer is a clear "yes".  We walked through the crowded narrow streets of Old Havana totally at ease.  We found the people to be exceptionally friendly although we must note that there are many new "entrepreneurs" selling food and various trinkets.  They are not aggressive and a simple "no thank you" will suffice to get them to move on.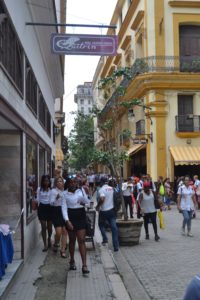 We ate lunch at a local waterfront restaurant (excellent food, so-so beer) and were serenaded by three fairly elderly male singers with musical instruments.  They were not allowed in the restaurant so they played outside with a clear plastic sheet separating us.  Three Cuban songs, including Guantanamera, charmed us into giving them a few dollars which they very much appreciated.
Other than traffic police, there were few police and we saw no soldiers.  However, when getting off the ship and going through Cuban customs, we felt uneasy.  The Cuban officials bordered on rude.
The money situation is slightly complicated and would be boring to read but if you intend to travel to Cuba, we will review it with you.
Right now Cuba is not for everyone.  You must take a tour or cruise and engage in cultural or educational tourism.  While Cuba has beautiful beaches, you're not likely to sit on one sipping a daiquiri or Cuba Libra (both invented in Cuba).  If you are a curious person, this should be on your future travel list.  You'll close your eyes and wake up in the 1950s.
More Car Photos From Our Trip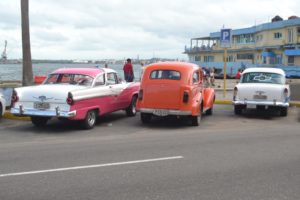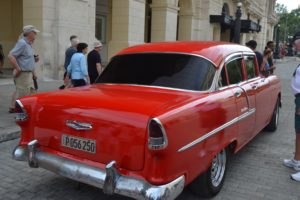 Celebrity is building a ship specifically designed for the Galapagos Islands.  The 100 passenger ship is the smallest ever built for Celebrity Cruises.  The Ecuadorian government restricts the size ships that are allowed to visit these islands that are rich in wildlife seen exclusively in this part of the world.  The ship will be named Celebrity Flora and will begin cruising in May of 2019.
This "soft adventure" cruise will be premium priced because this is one of the world's most sought after destinations and government restrictions limit the number of visitors.
The Jones Act has been in the news because of the hurricanes and the need to get supplies into hurricane ravaged US territories.  It was enacted in 1920 and was designed to protect the American Merchant Marine which would be needed in time of war.  Its basic tenant is that in order to carry goods or passengers between US ports, a ship must have the hull of the ship built in the US and at least 75% of its crew must be US citizens.  During the ongoing emergency at St Thomas, St Johns and Puerto Rico, there are too few US flagged ships available to move supplies to these territories.  Therefore the Jones Act was temporarily suspended.
How does the Jones Act affect the cruise industry and its customers?
There are a number of cruise lines whose ships ply US rivers who meet the Jones Act requirements.  The most well known is the American Queen.
However, most of the large cruise ships were built in Europe and are flagged in small countries that have low tax rates.  They cannot carry passengers between US ports without stopping at a foreign port.  There is one large cruise ship that meets the Jones act provisions.  It is NCL's Pride of America. Its hull was built in the U.S. It's flagged in the US and carries an American crew.   It's based in Hawaii has weekly cruises in the Hawaiian Islands.
It is the only large cruise ship that can do this itinerary and therefore it is no competition.  NCL has the only 7 day cruise in the Hawaiian Islands.
How does the lack of competition affect price?
We compared a Balcony stateroom on a 7 day cruise around Hawaii with an NCL 7 day cruise to the Western Caribbean on the Norwegian Getaway.  Royal Caribbean, Celebrity, Carnival, Princess and others provide stiff competition on this itinerary.
The lowest priced balcony on the March 3rd 2018 sailing of the Pride of America from Honolulu is $2599 per person while the lowest priced balcony on the March 4th Norwegian Getaway is $1179, less than half the price of the Pride of America.
Itineraries are also affected by the Jones Act.  For example, for a round trip Alaska cruise from Seattle, one of the ports must be in Canada.
You can go to Hawaii on a cruise line other than Norwegian Cruise Line.  However, the ship will stop in Ensenada or Vancouver on its way to or from the West Coast of the United States and it will be an 11 or 12 night cruise with a lot of days at sea..
Are there benefits to the Jones Act?
Yes, crews receive higher wages and working conditions are better and safer.  Also, there are stricter environmental requirements for US flagged ships.
When NCL initiated Hawaii cruises on the Pride of America, they hired young Americans as waiters and room stewards and guess what happened?  Passengers complained bitterly about the quality of service.  It seems that the young Americans pictured themselves as laying out on deck during the day and partying at night with a smidgen of work here and there.
NCL had to build a facility in Maryland to train American staff in the art of service.  They are now able to weed out the party people before they board the Pride and service is now very good.
We were thrilled with the response to last week's photo contest which asked for the name of the bridge and body of water shown in the contest photo (photo on right).  The correct responses to this two part question were Rialto Bridge (or Ponte Rialto) and Grand Canal.  The Grand Canal is the body of water that snakes through the center of Venice and is equal to a city's main street.  The ornate and picturesque Rialto Bridge is at the heart of Venice.
We (Wayne and Rachelle) were in Venice for 3 days where we boarded the Celebrity Constellation for a 9 night cruise in the Adriatic Sea.  The cruise ended in Rome (Civitavecchia) where we spent another 3 days.
Until you have actually experienced Venice, it is hard to conceptualize a city whose walkways and bridges are interwoven with waterways and whose "main street" is a grand canal.  Our hotel, just a 5 minute walk from St Mark's Square, was located on a small waterway frequented by serenading gondoliers.  As picturesque as the gondolas are from afar, a close inspection reveals superb maintenance and great attention to design detail.
In Venice, there are basically 2 different modes of water transportation:  water taxis and water buses.  Water taxis are private, point-to-point hires just as a land taxi would be.  They will take you right to your door if requested. Water buses, like land buses, run on a schedule and have multiple lines and designated stops.  Depending on the line, they can be pretty crowded.
Congratulations to Pat Horne of Edison, NJ, whose name was randomly drawn from those who responded correctly. Pat will receive a $25 credit towards a trip booked through Just Cruises Plus.
Call us to help you plan your next vacation which includes Venice!
Are you a Royal Caribbean Fan?  If yes, you must read this.
Beginning July 1st, Royal Caribbean will offer an additional discount if you are willing to forego your deposit if you cancel  your cruise.  However, all is not lost.  If you cancel and rebook another date with Royal Caribbean, your deposit less $100 per person will be moved to the new date. This new program will take effect on July 1st.
The key information, that is, how much you can save by taking the no refund route, will not be available until July 1st.
There was so much hype leading up to the announcement of Celebrity Edge, Celebrity's new class of ship which is scheduled to debut at the end of 2018.  Now that we've seen the plans, we understand what all the fuss is about!
This groundbreaking ship is truly on the cutting edge in the world of cruising:
~~~ Its Infinite Veranda allows passengers to turn their entire stateroom into one open-air veranda by opening the glass door barriers (they fold to the side like French doors). Alternatively, you can enlarge your stateroom by leaving the "french doors" open and closing a second set of veranda doors which seal off the wind.
~~~ The Magic Carpet is a covered platform attached to the starboard side of the ship. It moves up and down on the side of the ship and stops on certain decks, adapting to each of those decks as an extension of what already exists (an extension to the pool area, an extension of one of the new restaurants, Raw on 5, a platform to streamline stepping onto a tender, etc.)
~~~ Suite passengers on the Edge have use of exclusive public spaces called "The Retreat".  There is an exclusive lounge, sundeck, pool bar and pool along with Luminae, Celebrity's suite-only restaurant.
~~~ Celebrity has introduced two new Edge-class suites. The 950 sq ft Edge Villas are awesome 2 story luxury residences that surpass any "suite" we've seen. The 1880 sq ft, 2 bedroom Iconic Suites are positioned above the bridge and enjoy sweeping panoramic views.
~~~ Celebrity has been moving n the direction of open air spaces on all of their ship classes.  The Edge expands on this theme with the Rooftop Garden, a space artfully decorated with tree-top sculptures. It's a place where you can relax with a good book, grab a bite to eat, dance under the stars or watch a movie.
There is still quite a bit of information about the Edge that has not yet been released – as we receive more information we will provide updates.
The Edge will begin its season with an East/West Caribbean itinerary.  Reservations are available for sailings from December 2018 through April of 2019.  Pricing and promotions are competitive with other Celebrity ships, so call now to reserve your space!
Jonathan just returned from the Harmony of the Seas' inaugural sailing!  He describes this new Oasis class ship as "amazing" and says "you have to see it to believe it"!   The Harmony, Royal Caribbean's 3rd ship in the Oasis class, will be doing 7-night East and West Caribbean itineraries from Fort Lauderdale.
Call or email us to plan your next vacation on this magnificent new ship!