You are currently browsing the archives for the Destinations category.
Archive for the 'Destinations' Category
Rachelle and Wayne couldn't resist one of Royal Caribbean's Going, Going, Gone sales.  A four night cruise, with a full 12 hours in Cuba was only $349 for an ocean view room.
After a very leisurely sail from Miami to Havana, a distance of 99 miles, El Morro greeted us at the crack of dawn on the third day of the cruise.  As we crept slowly toward our pier, we felt like we were entering the "Twilight Zone".  Roads along the shore side hosted US built cars from the 30s, 40s and 50s.  Beautiful buildings came into view, many in poor condition after nearly 60 years of communist rule.  We couldn't wait to see more of this living museum.
When traveling to Cuba, you can't simply get off the ship as you would in most ports.  We had to take an excursion through Royal Caribbean thanks to new regulations promulgated by our government.  Since one of Wayne's favorite books is "The Old Man and the Sea", we elected to take an excursion related to Ernest Hemingway.  Our Cuban guide was excellent but the tour itself was just "OK".  Our friends who traveled with us took an Arts and Culture tour which they loved although they noted that there was a lot of walking.  Folks with mobility issues should only take tours that involve motor transport.  The streets in colorful Old Havana are either cobblestone or are in rough shape.
Once we completed the tour, our visa requirements were met so we were free to roam as we pleased.  We negotiated a ride from the proud owner of a 1956 Ford Crown Victoria (stick shift) to take us to Jaimanitas on the outskirts of Havana where Cuban architect Jose Fuster constructed a dreamlike streetscape inspired by the works of Spanish architect Antoni Gaudy (Sagrada Familia in Barcelona).
Many people ask us whether we felt safe.  The answer is a clear "yes".  We walked through the crowded narrow streets of Old Havana totally at ease.  We found the people to be exceptionally friendly although we must note that there are many new "entrepreneurs" selling food and various trinkets.  They are not aggressive and a simple "no thank you" will suffice to get them to move on.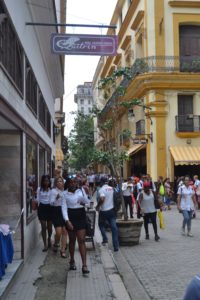 We ate lunch at a local waterfront restaurant (excellent food, so-so beer) and were serenaded by three fairly elderly male singers with musical instruments.  They were not allowed in the restaurant so they played outside with a clear plastic sheet separating us.  Three Cuban songs, including Guantanamera, charmed us into giving them a few dollars which they very much appreciated.
Other than traffic police, there were few police and we saw no soldiers.  However, when getting off the ship and going through Cuban customs, we felt uneasy.  The Cuban officials bordered on rude.
The money situation is slightly complicated and would be boring to read but if you intend to travel to Cuba, we will review it with you.
Right now Cuba is not for everyone.  You must take a tour or cruise and engage in cultural or educational tourism.  While Cuba has beautiful beaches, you're not likely to sit on one sipping a daiquiri or Cuba Libra (both invented in Cuba).  If you are a curious person, this should be on your future travel list.  You'll close your eyes and wake up in the 1950s.
More Car Photos From Our Trip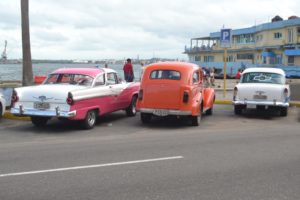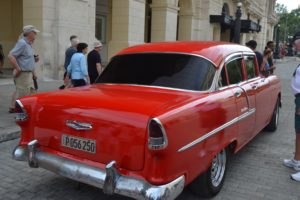 We were surprised at how many people identified Amalfi in our photo contest.  We can't seem to stump our well-traveled friends!  The winner of the contest is Chuck Diefenderfer of Jekyll Island, GA, whose name was randomly selected from the 27 correct responses.
Amalfi was one of the very picturesque ports on our 7 day cruise along the Amalfi Coast aboard the Star Flyer, a real sailing ship.
It is a prime tourist port with lots of shops and restaurants.  It has a rich history dating back to the 6th century.  It's most well known attraction is the Cathedral of Amalfi with works by Michelangelo and Bernini.  In Amalfi, we had some of the best olives that we've ever tasted at a local restaurant — and they were free.
Amalfi is a good jumping off point for Ravello, a popular spot along the Amalfi coast.  One can take a bus to Ravello from Amalfi, but beware of traffic during summer months!
On our trip, we also visited the "picture postcard" island of Lipari, one of 7 small islands of the Aeolian archipelago.  We opted for the only excursion offered by the ship, a motorcoach tour of the island which offered us many opportunities to take wonderful photos from high in the hills.  We also stopped at "Marisa"s Place where we sampled Malvasia, the local wine, as well as many flavors of delicious cookies.
It would be inaccurate to classify Messina as a picturesque port.  While we found that Messina itself has little to offer, an excursion to Taormina is a must from this port.  The town is perched on a terrace overlooking the sea so we got wonderful photos.  The highlight is the Grecian theater famous for its size and acoustic qualities.  It is still used for open air performances.
Sorrento is another port, beautiful on its own, where one can enjoy shopping and restaurants.  However, the main attractions are nearby and you will have difficult choices.  We chose to visit Pompeii, buried by the  eruption of Vesuvius in 79 A.D.  You will walk the streets of Pompeii and visit wealthy patrician homes just as they looked almost 2000 years ago.
Herculaneum is another (smaller) city destroyed by the eruption that buried Pompeii.  Folks who went there told us that it was a great experience.  Workers are still excavating the town.
The third choice for Sorrento  is the famed Capri.  Those who chose this tour  raved about the beauty of Capri and they said a highlight was a visit to the Blue Grotto.  You need to get to Capri by boat so you should be aware that it can be a rough trip.  However, the waters were quite calm for the folks who visited Capri from our ship.
The final port on our itinerary was the picturesque fishing village of Ponza which, according to legend was the home of Circe who seduced Uslysses.  This port was teeming with vacationing locals.  While in Ponza, you could easily take a local boat to one of the beaches, take a different boat to visit Ponza's grottos or simply walk through the town.  We ate lunch at a restaurant overlooking the tiny harbor where two Star Clipper ships were anchored – our Star Flyer and the larger Royal Clipper.
Call for more info about the Amalfi Coast.  This was one of our favorite destinations!
Only five people out of a total of 22 responses correctly identified the location of the photo submitted by Joe Baum.  The winner of the drawing is Paul Crager of Philadelphia, PA who will receive a $25 gift card.  The photo is of a restaurant called Eetcafe The Paddock located in Aruba.  While we've never eaten there and cannot give an opinion of the restaurant, we highly recommend Aruba, the "A" in the ABC islands.  You'll find picturesque beaches (Eagle Beach is very wide with fine powdery sand), friendly people and great shopping in this Dutch island.  You can visit in the fall since hurricanes are rare this far south in the Caribbean.  You are less than 20 miles from South America when in Aruba.
We have included several other great photos taken by Joe on his visit to Aruba.  We especially like the one of Hooiberg mountain, the major landmark of Aruba.  Natural Bridge was another landmark until it collapsed in 2005.
We were looking for the word "Cuba" in your response to our question "Guess why Royal Caribbean brought her (Empress of the Seas) back?". It's one of the worst kept secrets that Royal Caribbean is bringing back the Empress of the Seas for cruises from Miami to Cuba. After all, could they let Carnival have Cuba by themselves?  Fathom Impact Travel, a Carnival subsidiary, has already announced cruises to Cuba beginning in May of this year. Globus has also begun a Cuba program and has created a few different land itineraries.
Royal Caribbean hasn't announced dates nor have they officially admitted that the Empress of the Seas will be sailing to Cuba. However, it would be bizarre to bring back a relatively small 27 year old ship for Caribbean cruises when they have the stunning Allure and Oasis of the Seas already serving the Caribbean with much success.
Want to be among the first to visit this beautiful but slightly dilapidated island? You should know a few things.
1. You will go as a traveler, not a tourist. A traveler interacts with the inhabitants; a tourist rides a bus and sees the sights.
2. Don't expect to go to a beach and sip Cuba Libres. This is still not allowed. You will have direct contact with Cuban people in person-to-person cultural exchanges.
3. It won't be cheap. Expect to pay around $2000 per person for an oceanview stateroom plus taxes plus $150 for a Cuban visa.
4. Buy euros. Fidel charges more to exchange US dollars.
Do we think a trip to Cuba at this point is worth it?  You bet!  Cuba is the world's biggest car museum.  Cars from the fifties and sixties are common in Cuba. The food is fantastic, the art is amazing and you will become immersed in the sounds of son (Cuba's popular music).
Still want to be among the first in more than a half century to visit this up and coming jewel of the Caribbean?
Email us and we will contact you when Royal Caribbean makes an announcement.  Or, if you'd like to consider a "people-to-people" cultural exchange through Globus, we can help you with that, too (tours through April and part of May are already sold out).
Forty-seven people mentioned "Cuba" in their responses. The winner of the drawing is Sue Bass of Levittown, PA. She will receive a $25 gift card.
While we wait for Cuba:
The Empress of the Seas has some very low priced cruises on 4 (Bahamas) or 5 (Western Caribbean) night cruise beginning in April.
After three nights at the Count's "castle" we continued to follow the route that my uncle took in his fight across France during WWII.  After visiting several towns devastated in the war, we deviated from the route to get to our next B & B in the town of Giverny, the home of Claude Monet where he created his most famous works.  Monet was one of the founders of the Impressionist movement; in fact, the name "impressionist" came from one of his paintings named Impression, Sunrise. The highlight of the town of Giverny is Monet's gardens where his Water Lilies series was painted. But that is not all that that Giverny area has to offer.
Les Andelys is nearby. From the hill overlooking it, Les Andelys appears to be a toy town or fairyland. Les Andelys is actually two towns, hence the word "Les". We walked along the meandering Seine River where the Tapestry 2 Avalon riverboat, happened to be docked. Rachelle was invited aboard for a visit and was very impressed with the upscale public spaces and staterooms.
The Château Gaillard, a (partially ruined) fortress built by Richard the Lionhearted in the 12th century, is the most dramatic sight on the Seine River (I think even more than the Eiffel Tower). It took only one year to build this enormous structure.
Our next stop in the Giverny areas was one of the most beautiful villages in France, La Roche-Guyon. It's imposing castle, named after the town, was the headquarters of the German Field Marshal Erwin Rommel, the "Desert Fox". Rommel committed suicide after the failed attempt on Hitler's life.
Our hostess at our Giverny Bed & Breakfast was a lovely French woman who spoke perfect English. She was neither a count nor a colonel and her modest, eclectically furnished house was completely different from our first two chateaus. However, it was no less comfortable and Sandrine, our hostess, was warm and charming. We must say that we hit a grand slam with our Normandy Bed & Breakfasts. Each was different but each was fantastic in terms of food, hosts and comfort and location.
After two very pleasant nights, we headed toward Paris. But first, we visited the cemetery where my uncle was buried after he was killed. His body was brought back to the US and the cemetery is now farmland but there is a memorial with his name on a plaque.
Our next installment in this series will focus on our stay in Paris.
After spending 3 terrific nights with Colonel Ed and his wife, Sharon, we headed for our next bed and breakfast.   But first, we stopped in the town of Saint Mere Eglise, one of the first towns freed from the Germans in WWII.  There is a church in the town square where paratroopers of the 82nd Airborne Division landed in error due to foul weather.  Many paratroopers were killed and captured in the square.  One paratrooper got hung up on one of the steeples of the church and pretended to be dead.  He witnessed the carnage below and was captured by the Germans but later escaped.  To this day, an effigy of Private John Steele hangs from the steeple.
Our next B&B was in a château owned and operated by a real French Count. When we arrived, he immediately began speaking French to us. With our feeble and rusty high school French, we gave a few answers which seemed to please him. From then on, he spoke nearly perfect English. He "joked" that he was testing us.
The chateau was enormous and we had a huge room with a separate dressing room and a very large and modern bathroom. Paintings of the count's ancestors hung on the walls and French Provincial furniture graced the room.  The Count was a font of tales.  He told us about the time when he was a child and his father was arrested by Germans in the foyer of the château when it was taken over for the use of Wehrmacht officers.  The family had to live in the stables during the German occupation.
His father was a member of the French Resistance and the Count had some harrowing war stories.
The Count takes care of the grave of an American soldier killed in WWII and buried in the Brittany American Cemetery in St. James, France.  He prepared a beautiful bouquet of flowers from his garden for us to take to the cemetery and place on the grave.
According to the Count, the château is haunted. Our friend, John had a close encounter with the ghost.
We continued to visit the Norman towns and villages where my uncle fought with the 3rd Armored Division until he was killed in action near Paris.  Most of the towns were pretty much destroyed during the war but have been completely rebuilt.  Normandy is largely farm country with apple orchards, corn fields and lots of cows. R oads are two lane with very little traffic.
We made a planned diversion to Mont Saint-Michel, the second most visited site in France (the Eiffel Tower is number 1). It is an active Benedictine abbey located on an islet. The original church structure was completed in 1144 and more structures were added in the 13th century. At low tide, one can walk about 600 meters from the mainland to the islet. However, unless you have a guide, this is not recommended because there are areas of quicksand. People have lost their lives when they got stuck in the quicksand and the tide came in. The tide difference between high and low tide can be as much as 45 feet and it comes in real fast. We did it the easy way. We parked our rental car in the main parking lot and took a shuttle bus on the recently completed bridge to a point very close to the massive structure.
We'll post more about our trip to Normandy & Paris in a few weeks. Stay tuned!
My uncle landed on Omaha Beach less than a month after D-Day. He was killed in action less than two months later near Paris. Seventy-one years later, my cousin, Richard, and I planned a trip to France where we would tour the towns and villages where he fought until his death. We left Philadelphia, together with my wife, Rachelle, and John, a friend of Richard's, in mid August on our two week pilgrimage.
I won't dwell on the details of the battles fought by my uncle but I would like to share our experiences in France. During our two weeks in France, we stayed in three bed and breakfasts (Normandy) and one apartment (Paris). This virtually insured that we would mingle with the local residents and, equally important, would keep our costs under control.
As we left Charles De Gaulle airport in our rented car, we noticed that the French roads are in better shape than ours and are much cleaner (not so many McDonald's wrappers along the hi-ways). We had some extra time before arriving at our first chateau, so we made a slight detour and headed to Honfleur.
Our first bed and breakfast was at a chateau owned by a retired Colonel in the British Royal Marines (Britain's most elite warriors) and his wife, who was an expert in the history of Normandy, particularly its medieval history. This turned out to be perfect for us. We not only had a first rate experience at the chateau, but the Colonel drove us to Omaha Beach (where the Americans landed), Pointe du Hoc (made famous by the U.S. Rangers) and the American Cemetery.   The quality of this tour was fantastic. While the colonel was much too young to have been part of the D-Day landings, being a military officer gave him insights that other guides simply cannot match. When you take a tour with the Colonel, your lunch is included and he eats with you and shares his experiences and answers your questions (another bonus).
On our second day with the Colonel, he drove us through many of the quaint villages where my uncle fought with the 3rd Armored Division.  They look much different than they looked 71 years ago.
The Colonel and his wife's bed and breakfast was not typical.  We also got dinner as well as drinks before dinner and, if you are going on a tour with the Colonel, a talk by the Colonel on what you will be seeing the next day. The meals were prepared by a young Norman woman and were outstanding. The colonel's wife, Sharon, had a wonderful sense of humor and she kept the conversation moving at dinner. Our rooms were spotless and had private bathrooms with plumbing more modern than most of our US hotels (this was true of all of the bed and breakfasts where we stayed as well as the apartment).   If you are a history buff (WWII, British or French), and you want a welcoming place to stay, we highly recommend this chateau.  For more information, call us.
Our 2nd Bed and Breakfast was more like a castle.  It was immense and it was owned by a real French Count.  We'll post more about this B & B in 2 weeks.  Stay tuned.
We received 67 responses to our 2/15/15 photo contest and, although everyone knew that the photo was taken in Alaska, just 41 correctly named both the railroad and the location. The winner of the contest is Norm Remer of Southampton, PA, whose name was randomly selected from the 41correct responses.
The town of Skagway, located on the Alaskan Panhandle, has a population of less than 1000 which doubles in size during the summer months to support the huge influx of tourists.  The port is a popular cruise ship stop — understandable, when you walk through the small town and, everywhere you turn, there is a breathtaking view of mountains.
Skagway's White Pass and Yukon Route narrow gauge railroad, originally built during the Gold Rush, runs throughout the summer months.  Although usually pulled by diesel locomotives, you could get lucky and ride behind an old time steam locomotive.  There are several trips per day and, although you can purchase tickets while on your ship, we recommend that you purchase them in advance to assure you get the excursion you want.  This is our number one recommendation for Skagway.  The scenery is amazing — hence, the reference to the "Scenic Railroad of the World".
The most common tour offered is round trip from "downtown" Skagway to past the summit and return. This tour crosses the Canadian boarder into Yukon Territory, British Columbia. For those who want to combine the railway experience with other adventures, there are several combo-variations offered including; Railway with Kayaking, Railway with Hiking, Railway with a Dog Sled visit and Railway with Biking.
We opted for a tour which took us by train to Fort Fraser and then we biked back to the town.  Even with the drizzly weather, the ride to the bottom was exhilarating!  There was little pedaling and lots of braking.
Our trip to Alaska was in early September.  The temperature was a LOT warmer than we are experiencing here (in Philadelphia).
We received over 50 responses to last week's question which asked about the "jumble of items" shown in the contest photo.  Responses ranged from "Disney magnets" to "Disney luggage tags".  These guesses were close but the correct answer is "Disney pins". Only 20 of you guessed correctly.   Congratulations to Ellie Schwartz of Washington Crossing, PA, the winner of the random drawing.
What can you do with these pins?  Buy them, wear them, put them on display, save them and trade them, of course!
Disney pins are hot and the trading of those pins is a popular activity, as if there was not enough to already keep you busy when visiting Disney. You can buy packs of pins in advance. When at Disney, you can wear your pins on a lanyard which you wear around your neck.  As you walk around the parks, you will see Disney staff members who are also wearing their pins. You may approach those staff members and offer to trade selected pins.
Disney pins can also we acquired at events, for example, if you buy a behind the scenes tour of Disney, you'll receive a pin at the end of your tour.
Some pins come in sets. Pins are often "retired" from production and, as the new version of that pin is introduced, the older version increases in value.
When at Disney, there is an etiquette to trading pins with staff members including:
–          Trade one pin at a time, hand to hand
–          For safety, trade pins with the backs attached
–          Pins should be in good, undamaged, tradeable condition.
–          Certain pin sets must be traded as sets.
–          Refrain from touching another person's pin or lanyard. If you need a closer look, ask the person.
Click here for a complete list of Pin Trading Etiquette.
Thinking about a trip to Disney? Give us a call.  We've been doing Disney trips for years and have agents who are expert in both land and sea vacations packages.
In last week's photo contest results, we challenged our readers with  a new trivia question:  There is one nation in the Caribbean where one large part of the island is volcanic and the other part is coral.  Can you name the nation?  The correct answer is "Guadaloupe".
Sadly, we received no correct responses to our trivia challenge!
Guadaloupe is a French-owned collection of islands located in the southernmost portion of the leeward island chain.  The two main islands, Basse-Terre and Grand-Terre, are so close as to appear, from above, to be two wings of a butterfly.
Designated a World Biosphere Reserve by UNESCO, Guadeloupe National Park on Basse-Terre, is comprised of waterfalls, lush foliage, gorgeous flowers including many species of orchids and 300 kilometers of hiking trails.
In the heart of the park is La Soufrière an active volcano which has erupted eight times since 1660.  Hot springs, mud pools, and fumaroles punctuate its barren black sides.  Hiking trails along this mountain allow hikers panoramic views of the surrounding islands.
Off the coast of Basse-Terre near Bouillante, the waters surrounding Pigeon Island comprise the  Jacques Cousteau Underwater Reserve (Réserve Cousteau) with some of Guadeloupe's best sub-aquatic scenery.  Turtles and large schools of fish, as well as parrotfish, trumpetfish, and barracuda frequent the coral gardens here, and the area offers good wall and wreck dives. We had the wonderful experience of scuba diving in this reserve, however there are also shallow reefs which can be easily reached by snorklers.
The adjacent French islands of La Desirade, Les Saintes and Marie-Glante are also under the jurisdiction of Guadaloupe.  Les Saintes, also known as Îles des Saintes, is a wonderful island with a small main town, many secluded beaches and wonderful snorkeling. It's considered to have one of the most picturesque bays in the world.