Rachelle and Wayne couldn't resist one of Royal Caribbean's Going, Going, Gone sales.  A four night cruise, with a full 12 hours in Cuba was only $349 for an ocean view room.
After a very leisurely sail from Miami to Havana, a distance of 99 miles, El Morro greeted us at the crack of dawn on the third day of the cruise.  As we crept slowly toward our pier, we felt like we were entering the "Twilight Zone".  Roads along the shore side hosted US built cars from the 30s, 40s and 50s.  Beautiful buildings came into view, many in poor condition after nearly 60 years of communist rule.  We couldn't wait to see more of this living museum.
When traveling to Cuba, you can't simply get off the ship as you would in most ports.  We had to take an excursion through Royal Caribbean thanks to new regulations promulgated by our government.  Since one of Wayne's favorite books is "The Old Man and the Sea", we elected to take an excursion related to Ernest Hemingway.  Our Cuban guide was excellent but the tour itself was just "OK".  Our friends who traveled with us took an Arts and Culture tour which they loved although they noted that there was a lot of walking.  Folks with mobility issues should only take tours that involve motor transport.  The streets in colorful Old Havana are either cobblestone or are in rough shape.
Once we completed the tour, our visa requirements were met so we were free to roam as we pleased.  We negotiated a ride from the proud owner of a 1956 Ford Crown Victoria (stick shift) to take us to Jaimanitas on the outskirts of Havana where Cuban architect Jose Fuster constructed a dreamlike streetscape inspired by the works of Spanish architect Antoni Gaudy (Sagrada Familia in Barcelona).
Many people ask us whether we felt safe.  The answer is a clear "yes".  We walked through the crowded narrow streets of Old Havana totally at ease.  We found the people to be exceptionally friendly although we must note that there are many new "entrepreneurs" selling food and various trinkets.  They are not aggressive and a simple "no thank you" will suffice to get them to move on.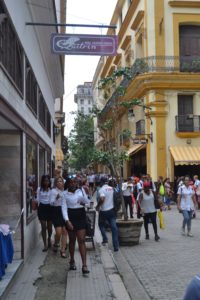 We ate lunch at a local waterfront restaurant (excellent food, so-so beer) and were serenaded by three fairly elderly male singers with musical instruments.  They were not allowed in the restaurant so they played outside with a clear plastic sheet separating us.  Three Cuban songs, including Guantanamera, charmed us into giving them a few dollars which they very much appreciated.
Other than traffic police, there were few police and we saw no soldiers.  However, when getting off the ship and going through Cuban customs, we felt uneasy.  The Cuban officials bordered on rude.
The money situation is slightly complicated and would be boring to read but if you intend to travel to Cuba, we will review it with you.
Right now Cuba is not for everyone.  You must take a tour or cruise and engage in cultural or educational tourism.  While Cuba has beautiful beaches, you're not likely to sit on one sipping a daiquiri or Cuba Libra (both invented in Cuba).  If you are a curious person, this should be on your future travel list.  You'll close your eyes and wake up in the 1950s.
More Car Photos From Our Trip